After a flurry of free agent activity and some major shakeups in the top ten, we find ourselves less than a month away from the start of the 2021 NFL Draft.
Plenty can happen between now and then but, after my first mock, it's time to head back to the drawing/dart board to take a stab at how the first round could play out next month. As I always say, remember that no team has ever made a fan mad with their first-round draft selection. They always make sense!
1. Jacksonville Jaguars – Trevor Lawrence (QB, Clemson)
This is happening.
2. New York Jets – Zach Wilson (QB, BYU)
Another selection that seems more clear by the day. The new Jets regime isn't about to go into next season with Sam Darnold at the helm.
3. San Francisco 49ers – Trey Lance (QB, North Dakota State)
The Niners gave us a clear indication of how they feel about Jimmy Garoppolo by trading up into the top five of this draft. Rumors continue to persist that Jones is their guy but I'll play devil's advocate and go with a higher-ceiling player who also happens to fit their offensive scheme perfectly.
4. Atlanta Falcons – Justin Fields (QB, Ohio State)
The run on quarterbacks continues with Fields, a Georgia native, heading to the Falcons even if fans will have to wait a little bit to see him take the reins from Matt Ryan.
5. Cincinnati Bengals – Ja'Marr Chase (WR, LSU)
Joe Burrow is undoubtedly lobbying hard for his former Tigers teammate to join him in Cincy. Northwestern's Rashawn Slater is another name to watch here or the club could choose to address the offensive line a bit later with a high-upside name like James Hudson in round two.
6. Miami Dolphins – DeVonta Smith (WR, Alabama)
The 2020 Heisman Trophy winner reunites with his former Crimson Tide teammate, Tua Tagavailoa, as Miami continues their full-scale rebuild project.
7. Detroit Lions – Penei Sewell (OT, Oregon)
Sewell isn't a perfect prospect but it's hard to ignore the otherworldly athleticism at his size. For a team like Detroit, looking to find their identity amongst a new coaching staff, Sewell is exactly the type of player to jump start the process.
8. Carolina Panthers – Mac Jones (QB, Alabama)
Panthers coach Matt Rhule tried unsuccessfully to lure Mac Jones to Baylor during his time with the Bears. Then, he wound up coaching Jones this past January at the Senior Bowl. If San Francisco goes with Lance, this is as logical of a fit as you'll find in the first round.
9. Denver Broncos – Jeremiah Owusu-Koramoah (LB, Notre Dame)
While slightly undersized, Owusu-Koramoah plays like a heat-seeking missile at the second level and could serve as a valuable chess piece for Vic Fangio's defense early in his NFL career.
10. Dallas Cowboys – Kwity Paye (EDGE, Michigan)
Paye displays unique explosiveness and athleticism and would be a welcome addition for a Cowboys team that struggled to get to the quarterback last season.
11. New York Giants – Rashawn Slater (OL, Northwestern)
Dave Gettleman is hell-bent on improving the Giants' offense next season as evidenced by shelling out major cash for former Lions standout, Kenny Golladay. Jaylen Waddle or Elijah Moore could be the pick here but you can't pass on an offensive line talent like Slater at this spot.
12. Philadelphia Eagles – Kyle Pitts (TE, Florida)
Too good to be true? Maybe. But crazier things have happened on draft night. Adding the Philly native would be a huge step towards rebuilding the offense around Jalen Hurts.
13. Los Angeles Chargers – Christian Darrisaw (OT, Virginia Tech)
Protecting Offensive ROY Justin Herbert is paramount heading into next season and as a result the Chargers rush to the podium to select my favorite tackle in the class, Virginia Tech's Christian Darrisaw.
14. Minnesota Vikings – Alijah Vera-Tucker (OL, USC)
The Vikings opted to replace safety Anthony Harris for half the cost by signing Xavier Woods, which means they could wait until Day 2 to add more secondary depth. The offensive line needs a lot of help if Minnesota expects to contend next season and USC's Alijah Vera-Tucker is a great value at this spot in the first round.
15. New England Patriots – Jevon Holland (S, Oregon)
After surprising many by being one of the league's most aggressive teams in free agency on the offensive side of the ball, New England adds the former Duck to fly high in its secondary. Former Crimson Tide stars Jaylen Waddle and Patrick Surtain II also figure to be names to watch with this pick.
16. Arizona Cardinals – Levi Onwuzurike (iDL, Washington)
The Cardinals have assembled a roster capable of going 16-0 in 2014, but will it be enough to compete in the NFC West? In all seriousness, Arizona appears set on offense so I would expect this pick to be on the defensive side of the ball. Former Husky standout Levi Onwuzurike could fit the bill with this pick, joining former UW teammate Byron Murphy on the Cards' defense.
17. Las Vegas Raiders – Zaven Collins (LB, Tulsa)
Boy, is this team tough to figure out. After gutting their offensive line through a series of trades, you'd have to imagine the draft focus will be up front? Unfortunately, the Raiders' defense was also horrific in 2020 and the team will be hoping that new defensive coordinator Gus Bradley can lead a huge turnaround next season. If this selection isn't Oklahoma State's Teven Jenkins or Texas' Samuel Cosmi, I think Collins, an explosive linebacker in the mold of KJ Wright, is the pick here.
18. Miami Dolphins – Najee Harris (RB, Alabama)
How do you make your franchise quarterback more comfortable? Keep adding his former offensive teammates to your roster. Harris is my RB1 for this class and think this is just about as high as we'll see him go on draft day.
19. Washington Football Team – Baron Browning (LB, Ohio State)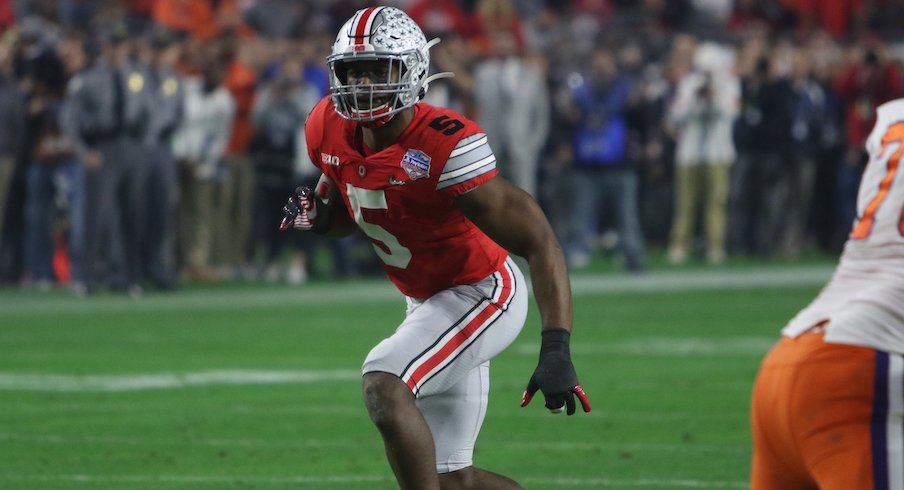 After sprinkling a pinch of Fitz-Magic (oh, and Curtis Samuel) on offense via free agency, expect Washington to target a defensive player with their first pick of the draft. Lots of intriguing names are still on the board in this scenario but they choose to continue their affinity for Buckeyes with linebacker Baron Browning.
20. Chicago Bears – Jaylen Waddle (WR, Alabama)
The fall finally ends for Jaylen Waddle as he teams up with undisputed QB1, uh….Andy Dalton?
21. Indianapolis Colts – Jaycee Horn (CB, South Carolina)
The Colts love tough, physical corners on the outside and former Gamecock Jaycee Horn fits that description perfectly.
22. Tennessee Titans – Azeez Ojulari (EDGE, Georgia)
The Titans need pass rush help and have to hope that this pick doesn't end up like their most recent first-round selection from Georgia.
23. New York Jets – Landon Dickerson (iOL, Alabama)
With a new quarterback in the fold, it's time for Joe Douglas to get him more protection up front. Dickerson's medicals will be the critical piece to his evaluation but he's the best available interior offensive lineman in this draft from a talent perspective. Ole Miss wide receiver Elijah Moore could be in play here, as well.
24. Pittsburgh Steelers – Micah Parsons (LB, Penn State)
Offensive line and cornerback will likely be in play here but it's hard to imagine the Steelers passing on in-state product Micah Parsons if he falls to this spot.
25. Jacksonville Jaguars – Jayson Oweh (EDGE, Penn State)
Oweh is extremely raw but you can't teach traits and the former Nittany Lion has them in spades.
26. Cleveland Browns – Jaelen Phillips (EDGE, Miami)
The Browns' addition of John Johnson III was one of the most shrewd moves of the entire free agency period and defense figures to continue to be the focus early in this draft. Phillips might have the most raw talent of any edge rusher in the class and could have his potential fully unlocked by playing alongside Myles Garrett.
27. Baltimore Ravens – Trevon Moehrig (S, TCU)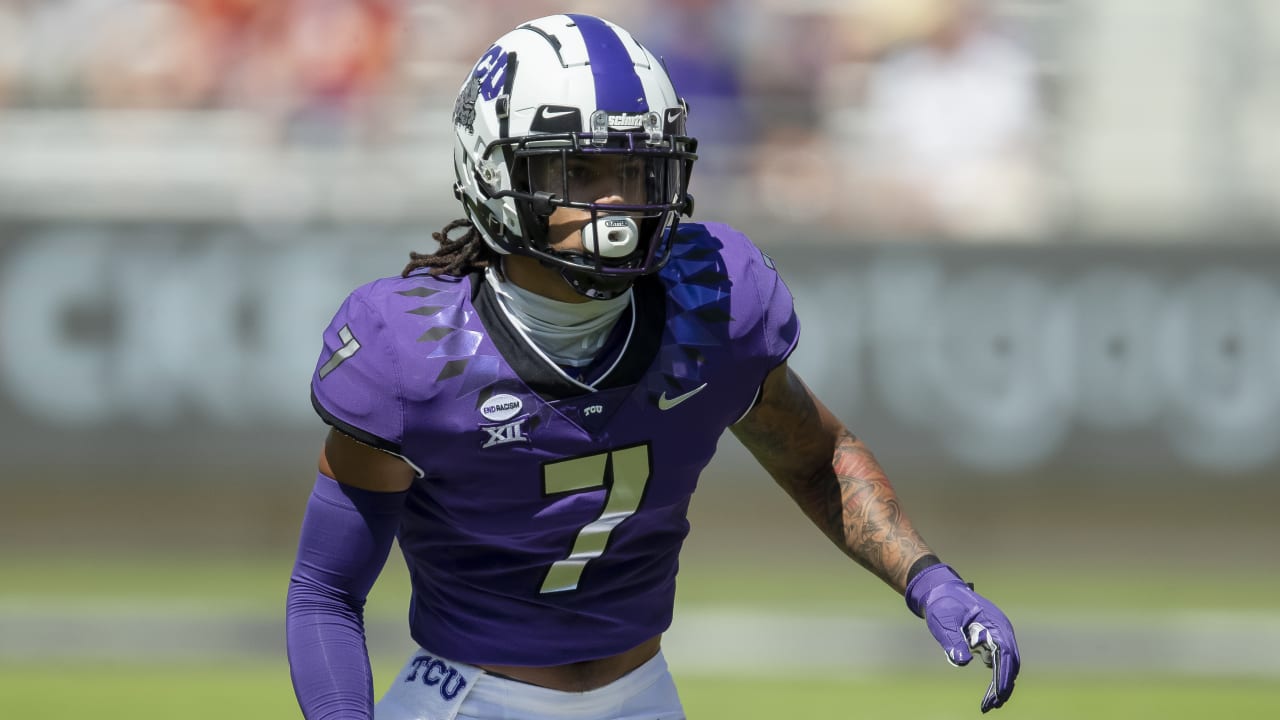 I'm tempted to continue the Alabama-to-Baltimore pipeline by mocking Patrick Surtain II or Christian Barmore here, but I'll go instead with rangy safety Trevon Moehrig of TCU. Oklahoma's Creed Humphrey is another name to watch here, as well.
28. New Orleans Saints – Patrick Surtain II (CB, Alabama)
While I didn't intend for it, both of my first two mocks of draft season end up with New Orleans native Patrick Surtain II heading to the Saints. I'm sure you won't hear Sean Payton complaining.
29. Green Bay Packers – Caleb Farley (CB, Virginia Tech)
Medicals may drop Farley out of the first round entirely but there's no denying his talent. After being hot on the trail of all the top corners during this draft cycle, GM Brian Gutekunst could very well decide he's well worth the risk to upgrade the Green Bay secondary.
30. Buffalo Bills – Christian Barmore (iDL, Alabama)
Interior defensive line and cornerback (Greg Newsome II, Asante Samuel Jr.) are likely to be the focus here and the best interior presence left on the board here is former Crimson Tide standout, Christian Barmore.
31. Kansas City Chiefs – Samuel Cosmi (OL, Texas)
After falling short in the Super Bowl, the Chiefs had to get creative with the re-shuffling of their offensive line. That's likely to continue early in this draft, with four-year starter Samuel Cosmi of Texas being an excellent fit near the end of round one.
32. Tampa Bay Buccaneers – Joe Tryon (EDGE, Washington)
All 22 starters from the Bucs' Super Bowl championship will return next season, in case you had any doubt about Tom Brady's sorcery. With the ability to make a depth pick at the end of the first-round, the go with a pass rusher with tons of upside in Washington's Joe Tryon.
Other names to watch: Greg Newsome II (CB, Northwestern), Gregory Rousseau (EDGE, Miami), Jalen Mayfield (OL, Michigan), Ronnie Perkins (EDGE, Oklahoma), Rashod Bateman (WR, Minnesota), Travis Etienne (RB, Clemson), Dillon Radunz (OL, North Dakota State), Elijah Moore (WR, Ole Miss)
About the author: Conor Dorney is writer and comedian originally from Seattle, Washington. He is an alumnus of the Cronkite School of Journalism at Arizona State University. You can follow him on Twitter here so the rest of us don't have to. He currently resides in Phoenix, Arizona with his wife, Jessica.